The Law Office of Holsman & MacArthur specializes in estate planning, trust and probate services for individuals and business owners in the SF Bay Area, and has served clients for more than four decades.
Offering small firm value, the practice provides personalized legal assistance with an emphasis on creating trusted ongoing relationships. Each client gets the benefit of working directly with a partner, rather than being passed off to an inexperienced intern or junior attorney.
The heart of the firm lies in helping people achieve a sound estate plan and peace of mind for their families and organizations. The friendly staff supports those goals by handling clients' personal matters effectively and discreetly.
See staff bios
Ann Deuel MacArthur, Partner
Silvia Bermudez, Legal Secretary
Ann Deuel MacArthur, Partner
As an estate planning, trust and probate attorney, Ann MacArthur's practice is dedicated to helping families, individuals and business owners identify and reach their estate planning goals.
"It's a complicated subject, and I do my best to explain tax and legal matters in plain English, so that clients can make informed decisions," says Ann.
"I help clients in San Francisco and Marin anticipate estate issues with their kids and parents and steer them away from potential pitfalls in their estate planning, as well as discussing how to maximize their gifts to charity," she says.
"One of the biggest assets I offer clients is my real world experience. I come from a large family and have seen how siblings and parents and grandchildren interact. I am also a parent, so I understand the issues and concerns of parents with young children."
Professional background
Ann is a second career attorney, having spent several years managing finances in the software industry, during the boom and bust. She has worked with start-up companies, small businesses, artists, filmmakers and nonprofits. She was also a business owner, and draws on all of her experience to help her clients achieve their estate planning and business objectives.
She was admitted to the California Bar in 2007, after attending University of San Francisco School of Law. She is a member of the Marin County Bar Association section on Probate and Estates, the Bar Association of San Francisco and the State Bar of California.
On the personal side
An outdoor enthusiast, Ann enjoys hiking, backpacking in the Sierras, camping, kayaking and mountain biking — especially with her kids. She is a fan of classical, bluegrass and choral music, and serves on the board of The Pocket Opera. A volunteer for the County of Marin, Ann speaks to senior groups on how to prevent elder financial abuse.
Contact Ann at amacarthur@estlaw.com.

William K. Holsman, Partner
In Memoriam 1931 – 2015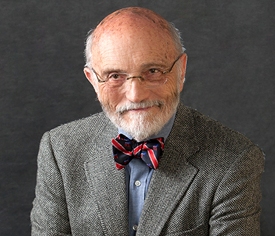 It is with great respect and sadness we pay tribute to our firm's founder, Bill Holsman. He died peacefully in July 2015 after a brief illness.
See more about Bill's professional and personal life.
The firm will continue to serve Bill's clients. Please get in touch if you have questions or need assistance.
Silvia Bermudez, Legal Secretary
After more than 20 years with the law firm, Silvia Bermudez has become the go-to expert on a wide variety of topics. She is the office's administrative manager and handles receptionist, office manager and accounts payable and receivable functions.
For Holsman and MacArthur clients, Silvia assists the attorneys in compiling final documents for trusts, advanced health care directives, durable powers of attorney and wills. She also helps support clients in real property transactions which will fund their trusts.
"In my years with the firm, I've enjoyed learning from a huge variety of client situations," says Silvia. She prides herself on providing excellent service and making sure clients feel welcome and comfortable when they visit the office.
Family centered
Silvia moved to the Bay Area from Nicaragua when she was 12, and is a fluent Spanish speaker. She grew up in Daly City and now lives in San Bruno. Her weekends are full of family activities, including visits to the park with her young daughter.
Get in touch with Silvia at sguevara@estlaw.com.
Learn more
Estate planning FAQs
Our practice areas